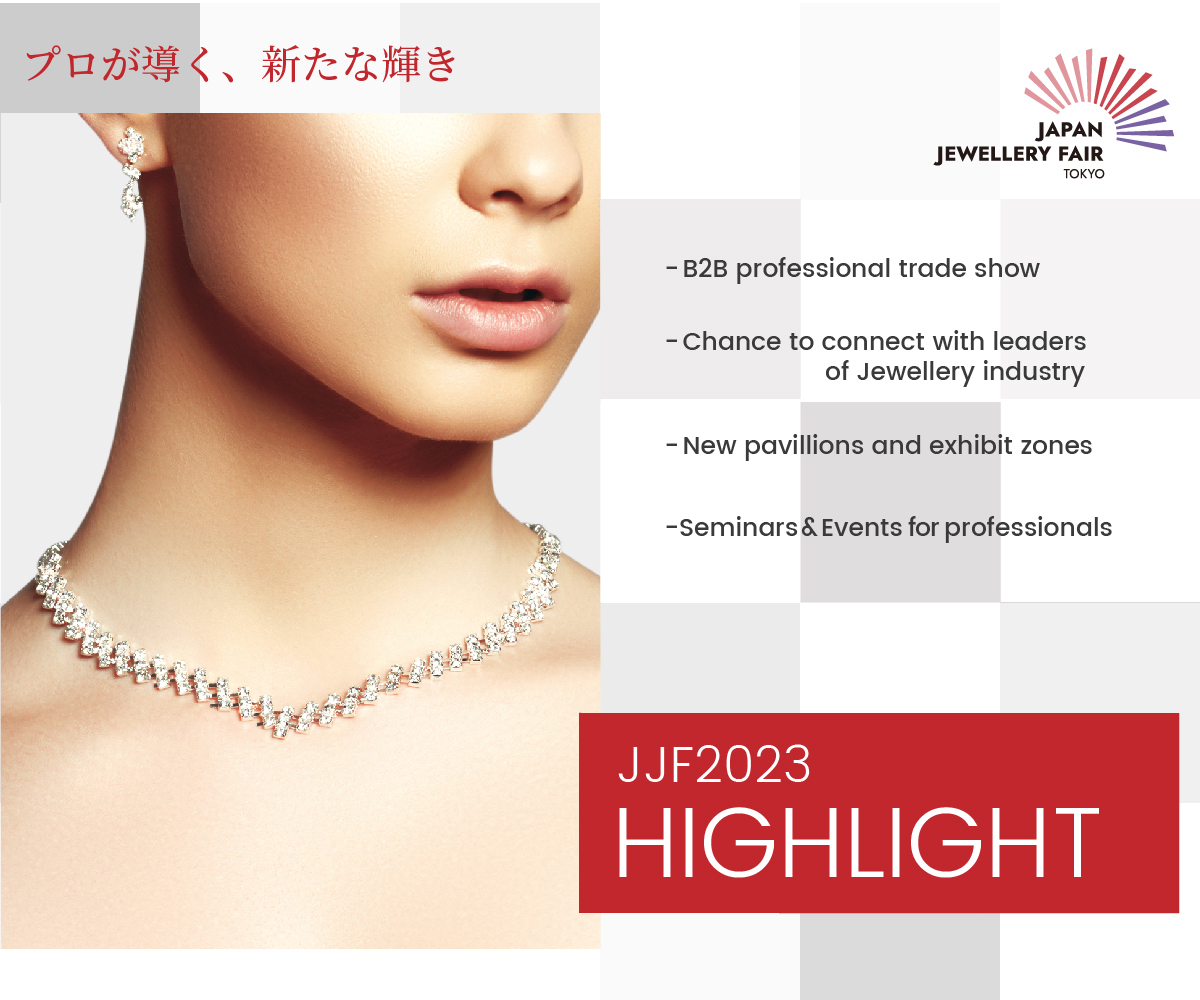 WHY VISIT?
✓The Biggest showcase of the latest jewellery collections
✓Fully supported by the Japan' s key industry associations
✓Find the upmost Japan quality products

JJF also offers high-quality educational seminars and a variety of events during the period of the fair that provide cutting-edge information. Join us and learn the latest jewellery industry insight!
▼JJF 2023 THEME▼
B2B professional trade show
Japan Jewellery Fair (JJF) enjoys a strong reputation as a key international BtoB trade fair in Japan.The fair plays important functions for Japanese buyers to place stock purchasing orders ahead of the Christmas and New Year retail season since its launch in 1993 by the Japan Jewellery Association.
buyers comment that they were surprised and impressed by the competitive prices that Japanese jewelers offered them at Japan Jewellery Fair. A long period of deflation in Japan has pushed prices down considerably, but the level of quality remains among the highest in the world.
New pavilions and exhibit zones
JJA Bridal Diamond Jewellery zone debut!
As a joint project with the Japan Jewellery Association, the 'JJA Bridal Diamond Pavilion' was debut with not only the aim of  spreading the gift culture of diamond engagement rings, but expanding and revitalizing market. 
At JJF, products are gathered under many trend themes such as, Affordable fine Jewellery which made of fine jewellery materials (¥30,000~¥100,000), Fashion Jewllery-Highly fashionable costume jewelry made of any materials, Genderless Jewellery, Wedding Jewellery, Men's Jewellery, Jewellery products for informercial, and Jewellery products for E-commerce.
By utilising JJF Exhibitor's list, You are able to search the products you are looking for. Please check it out!

Exhibitor's List will be available middle of July
Seminars
& Events for professionals
High Quality Educational Programme with Industry's Top Speakers!
The Japan Jewelery Fair is a place for business platform for professionals, as well as a place for gathering information.All programs are available free of charge, so you can use them as an opportunity to educate your employees.
Seminar Programs (Excerpt) *All seminars in Japanese ONLY
8/30 13:30-14:30 Event Space
Tentative / SDG trends in the world and the pearl business
Ms. Yumiko Ijich (JAPAN PEARL EXPORTERS' ASSOCIATION Executive Director) 
8/31 11:00-12:00 Seminar Room Presented by Japan Jewellery Association 
Basic knowledge for professionals! -Heat treatment of gemstones-
Mr. Hiroshi Kitawaki (Central Gem Laboratory Research Division / General Manager /Chair Man) 
8/31 12:45-13:45 Seminar Room
The Easiest and Most Accurate Methods for Identifying Similar Looking Gemstones
Mr. Ikuo Atsumi (Association of Gem Laboratories Japan Chairman, Colored Stone & Pearl Committee)
9/1 14:30-15:30 Event Space Presented by Japan Jewellery Association 
「Awaho」Craftsmanship - Reproduction and Succession-
Mr. Tsugio Sakamoto (FIGO)
More details of seminars and events will be released in middle of June
In order to book the semnars, Visitor Registration is needed.
Japan Jewellery Fair 2023
Show Name

JAPAN JEWELLERY FAIR 2023 (JJF 2023)
Date

30Aug - 1September 2023 10:00-18:00 (*closes at 17:00 on 1 September)
Venue

TOKYO BIGSIGHT EAST HALL5/6 (Access Map)
Organiser

Informa Markets Japan Co Ltd, Japan Jewellery Association


Supporters 

Ministry of Economy,Trade and Industry,  Japan External Trade Organization (JETRO),
Chamber of Commerce of Japan, Japan Pearl Promotion Society,
Japan Jewellery Designers Association, Platinum Guild International (PGI),
Japan Gold Metal Association, Japan Watch Importers Association,
All Japan watches jewelry glasses retail cooperative, Association, The Men's Fashion Unity (MFU) ,
The Japan Direct Marketing