Presentation of the Jeweller's Choice "Women of the Year" Award
Tao Tsuchiya chosen as 2019 Woman of the Year
The year's winner was Ms Tao Tsuchiya, one of Japan's most popular actresses. She made a stage appearance with gorgeous jewellery and talked about her recent career and her thoughts on jewellery on the second day of the Fair. Tao Tsuchiya is widely active on Japanese TV, movies, and commercials. She is admired for her attitude to work and her charming smile not only among Japanese women but also by men of every age group.
The "Women of the Year" award is given each year to women from the worlds of show business, sports and society who look the "most beautiful and brilliant with jewellery" in the opinion of the Japan Jewellery Association and the organisers of JJF.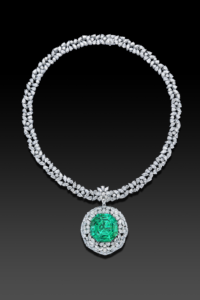 Platinum・Emerald・Diamond Necklace
JPY 500 Million (*excluding tax )
Materials : Platinum ・ Emerald 68.23ct・ Diamond 60.03ct
Exhibitor:TOKYO KIHO Co., Ltd.
【Inquiry】
TOKYO KIHO Co., Ltd.
Contact: Mr. Shimozono
FAX: +81-3-3832-7505
Email:sakura@tokyokiho.com
【Winners of the "Women of the Year" 】
in 2013, Ms. Ryoko Yonekura (acctress)
in 2014, Ms. Hiromi Nagasaku (acctress)
in 2015, Ms. Satomi Ishihara (acctress)
in 2016, Ms. Aya Ueto (acctress)
in 2017, Ms. Fumino Kimura (acctress)
in 2018, Ms. Yasuko Matsuyuki (acctress)