Japan Jewellery market forecast
Domestic Jewellery Retail Market On the Rise toward Tokyo Olympic / Paralympic Games, Projected to Achieve 1,019.5 Billion Yen by 2020
The domestic Jewellery retail market in 2020 is projected to achieve 1,019.5 billion yen in 2020.The market is expected to remain stable because, together with last minute surge in demand being expected to some extent if the consumption tax is to increase in 2019 and beyond, the domestic consumption and inbound tourism consumption both promising to increase toward the Tokyo Olympic/Paralympic Games in 2020. On the other hand, there is a
challenge of how large the Jewellery demand can be acquired.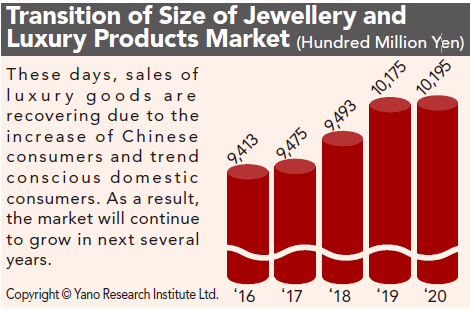 Why JJF?
1. The best timing for the upcoming Christmas and Year-End season.
Retailers such as jewellery shops and department stores use the Japan Jewellery Fair to place their orders
for the all-important Christmas and Year-End retailer season. So make sure you stand out from the crowd
and maximize sales from new and existing clients by emphasizing your new products and latest designs.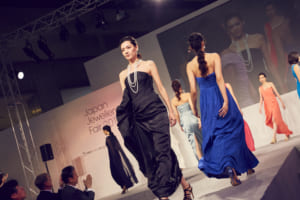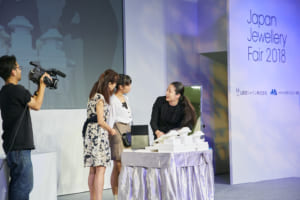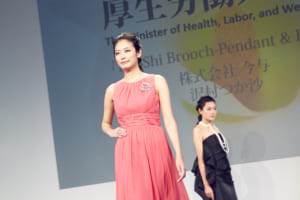 2.Quality Attracts Quality – Make sure you are in the right place!
The" Quality Design Zone" at JJF is reserved for companies with the highest quality products, exceptional
designs and uppermost credibility. If this fits your profile, this is where you need to be to meet the
maximum number of high-end buyers who are looking for outstanding designs and exquisite pieces.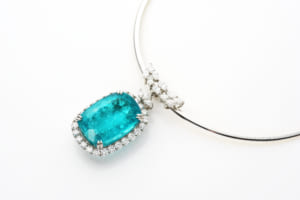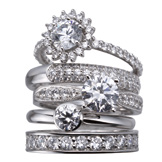 3. A Coordinated Campaign between Japan and Hong Kong Works Better!
Exhibitors meet potential buyers at the June show in Hong Kong and invite them to see their full range at Japan Jewellery Fair (JJF) in August. The buyers indicate their interest and place orders and JJF, and then they meet again in Hong Kong in September and conclude the transaction.